Industrial Grade timber is used for the manufacture of crates, pallets, boxes and bins which are destined as an end use for primary produce, such as kiwifruit & apples, or for manufactured products, such as paper, general food, car parts, computer parts or glass.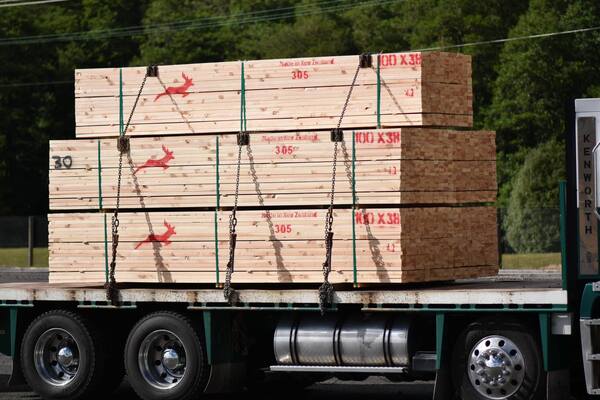 Timber Grades: Industrial Grade is cut from the centre of the log.
Markets: Red Stag Timber supplies packaging manufacturers in New Zealand, Thailand, Taiwan, Singapore, South Korea, The Philippines, India and the Middle East
Timber Preservation: This grade is not preservative treated, however each packet is protected with an anti-stain and anti-mould preservative. As long as the envelope protection is not broken, the chemical will aid inhibit the growth of stain and mould for 8 weeks from the time of production. Should the Industrial grade be supplied kiln dried then the moisture content is dried to 20% or less.
Timber Identification: Each packet is easily identified by the tag on the end of the packet.  Each packet is also spray marked with the Red Stag Timber logo and customer indentification marks.
Length: One length per packet. Length ranges from 3.0-6.0m with most being supplied in longer lengths such as 4.8/5.4/6.0m, however 3.6/4.2m are also common lengths.
Environmental Certification: All Red Stag Timber is produced from environmental grown and harvested plantation Radiata Pine or Douglas-fir.
Safety and Handling: When handling or cutting any timber is it advisable to wear a dust mask, eye protection, and gloves. Please work safely. All timber should be kept dry until used with exposure to the weather minimised.