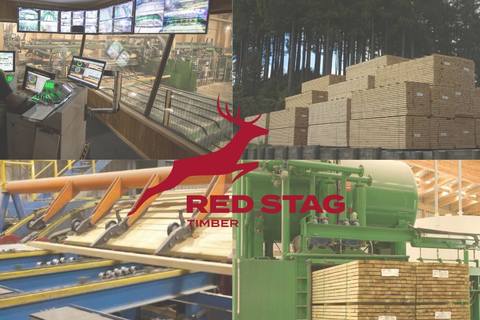 Join the team operating New Zealand's largest producing Sawmill
Red Stag Timber operates a modern state-of-the-art Sawmill in Rotorua to support the New Zealand building industry. The latest automated sawmilling machinery and technology provides an exciting and challenging career in the timber industry.
With high demand for our timber products Sawmill expansion plans are well underway, this has created addition roles to operate the new Timber Trim line, Bin sorter and Package Stacker. We are seeking applicants with experience in leadership, experience sawmill operators and trainees to join our Sawmill Nightshift team. 
Hours of work being; Monday to Thursday 5.30pm – 4.40am with occasional overtime as required.
Check us out -  https://www.youtube.com/watch?v=iea3LqR37g4
With our state of the art USNR machinery, the dual quad large band saw line cutting up to 15 logs per minute, averaging over 8,000 logs per day, a high speed curve saw breaks the timber down. Further downstream the timber is automatically trimmed and sorted at 140 pieces per minute, finally an auto-stacker packs timber in excess of 700 packets a day.  
Red Stag Timber will provide:
Competitive rates with an overtime rate
Weekly nightshift allowance
A strong safety and wellbeing culture
Onsite training and learning opportunities
Ideal applicants will have the following attributes:
Previous Sawmill and Leadership experience
Be reliable, hardworking and a physically fit team player
Take pride in producing a quality product along with dedication to health and safety
If this sounds like you then apply today -    Red Stag Timber Application Form 
Only completed application forms, along with a brief CV will be considered and shortlisted for interview.
Contact Kelly Robinson, HR Advisor on email recruitment@redstagtimber.co.nz
Please note:   You must be a NZ Resident living in New Zealand to apply for these roles.
A pre-employment drug test and medical assessment is required.