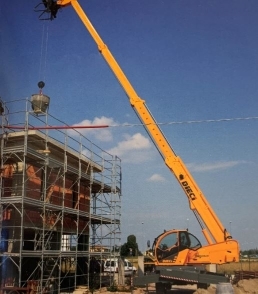 Maintenance System Co-ordinator
This role reports to the Maintenance Manager and will have day-to-day responsibility for the site's computerised maintenance management system (CMMS). The role includes co-ordinating maintenance work via the CMMS in a timely manner, in order to keep the plant running.  Significant experience and knowledge of industrial maintenance is required.
Our successful candidate will have worked as a maintenance tradesperson or planner for a minimum of 5yrs, in a heavy industrial or manufacturing environment. Sound knowledge of maintenance processes, asset structures, mechanical and electrical components and safe work requirements is needed.  In addition, you will be:
An excellent communicator (written, oral and people skills)
Experienced at operating CMMS's and Stores inventory software
Able to diagnose data reporting or system related problems within CMMS software
Assisting users to follow maintenance processes to ensure our system data integrity
At an intermediate/advanced level using MS Excel and Word
•       Familiar with database reporting, preferably using SQL Server Reporting Services
Proficient with the use of MS Project or similar and have experience planning and tracking Maintenance Shutdown activities
Well organized, detail oriented and apply sound judgement
Experienced at testing and installing new software with stakeholders and IT programmers
Familiar with business accounting principles.
Applicants should hold a relevant trade, planning or diploma qualification, as well as 5yrs+ solid work experience in a similar role and work environment. 
Heavy Machinery Operator and/or Fabricator
The successful candidate will predominantly be operating and maintaining our Dieci Pegasus Rotating Boom Telehandler to provide lift, carry and placement services for operations, maintenance and projects on site. A minimum of 3 years' experience and safe record in mobile plant operations is therefore essential.  
This role will also include undertaking fabrication work when not required on the Pegasus.  Recent relevant work experience is preferred, along with a flexible, keep busy and 'can do' attitude.  However, training will be provided for the right applicant.   Hours of work will be dayshift Monday to Friday and some weekends during busy periods.  Start & finish times will be agreed with the successful candidate, to suit work requirements.
The successful candidate will ideally hold the following:
A minimum 3 years' experience in mobile plant, telehandler or crane operation.
A current Slewing Crane operator certificate and/or telehandler certificate.
A Dogman or Riggers certificate.
Relevant and current EWP operation certificates i.e. boom lifts.
A current and clean Class 4 or Class 2 heavy vehicle license.
A Level 4 Mechanical Trade Qualification in Fabrication or similar would be an advantage
Maintenance Fitters
These are hands on positions!  A combination of preventative maintenance and diagnostic work to assist our experienced Operators and Electricians in maximising plant performance ensures each day has a high degree of variety and challenge. 
To be successful you will:
Hold a NZ recognised trade qualification in Mechanical Engineering
Have experience as a trade fitter, preferably in a heavy manufacturing Environment
Be skilled in hydraulics, pneumatics, pumps, valves, fabrication, bearing fitment, setup and alignment
Understand mechanical drawings and deliver high quality work
Have demonstrated history of being a team player and a 'Safety first' approach to planning and carrying out non-routine tasks
Analytical troubleshooting ability
Three vacancies available please specify on your application form which role you are interested in:
               1.   Remanufacturing Maintenance Fitter working, Monday – Friday, 4.30am – 1.00pm.
               2.   Sawmill Maintenance Fitter, working Monday – Friday with hours varying on a 3-week rotation.
               3.   Sawmill Maintenance Fitter, Nightshift working Monday – Thursday, 6.00pm - 4.00am. 
You will need to be a team player, and demonstrate a 'Safety first' approach to work and high levels of initiative.  Competitive remuneration is on offer to the successful candidate with proven skills and knowledge. 
Trades Assistant & Preventative Maintenance/Lube Technicians
We also seek one fulltime Preventative Maintenance Lube Technician to work Thursday to Sunday dayshift, and one part-time experienced Preventative Maintenance Technician to work Saturday & Sunday dayshifts, to assist with preventative maintenance, machinery greasing & other light maintenance work.  The part-time role may suit a semi-retired mechanical maintenance person.
Reporting to the Assistant Maintenance Manager, these are hands-on positions, which will work alongside the Weekend Shift Maintenance Team and Mechanical contractors.  Competitive pay rates recognising the Weekend days worked, will be discussed with the successful candidates.
Our ideal candidates will have experience working in a Sawmill environment, with the following skillset, experience and attributes:
•             Heavy industry background and mechanical aptitude
•             Keen attention to detail, safety processes and documentation
•             Computer familiarity to enter findings and create work requests
•             Basic knowledge of lubrication
•             Be comfortable with undertaking repetitive tasks
•             Preparedness and availability to work the weekend maintenance roster on a long term basis
To apply, please follow the link: Red Stag Timber Application Form  or contact Kelly Robinson, HR Advisor on  recruitment@redstagtimber.co.nz or (07) 349-5831. 
Applications close at 4pm on 15th August 2022.
A pre-employment medical and drug test will be required.