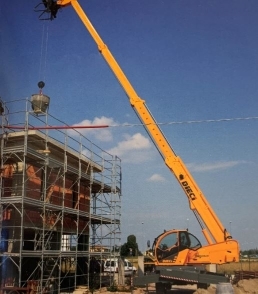 We currently seek a Heavy Machinery Operator to join our Maintenance Team.  The successful candidate will predominantly be operating and maintaining our Dieci Pegasus Rotating Boom Telehandler to provide lift, carry and placement services for operations, maintenance and projects on site. A minimum of 3 years' experience and safe record in mobile plant operations is therefore essential.   
The successful candidate will also assist with general work as required including tasks operating our EWP equipment.  Recent work experience as a skilled labourer is preferred, along with a flexible, keep busy and 'can do' attitude.
Hours of work will be dayshift Monday to Friday and some weekends during busy periods.  Start & finish times will be agreed with the successful candidate, to suit work requirements.
The successful candidate will hold the following:
             A minimum 3 years' experience in mobile plant, telehandler or crane operation.  
             A current Slewing Crane operator certificate and/or telehandler certificate.
             A Dogman or Riggers certificate.
             Relevant and current EWP operation certificates i.e. scissor and boom lifts.
             A current and clean Class 4 or Class 2 heavy vehicle license.
You will need to be a team player, and demonstrate a 'Safety first' approach to work and high levels of initiative. Competitive remuneration is on offer to the successful candidate with proven skills and knowledge. 
To apply, please follow the link: Red Stag Timber Application Form  or contact Kelly Robinson, HR Advisor on  recruitment@redstagtimber.co.nz or (07) 349-5831. 
Applications close at 4pm on Wednesday 19th January 2022.
A pre-employment medical and drug test will be required.  We also encourage all staff to be vaccinated against Covid 19.  Applicants must be living and able to work in New Zealand.